Project Management Training
Microsoft Project Essentials
This fundamental course provides you with the hands-on skills to plan and manage project activities. You will learn and practice Microsoft Project.
Receive Course Notifications!
Some Experience Necessary
Microsoft Project Essentials
This fundamental 5 half-day online, instructor-led course provides you with the hands-on skills to plan and manage project activities using Microsoft Project.
You will learn and practice Microsoft Project at your own computer. The scheduling techniques are learned through a series of progressive exercises that simulate a real project. At the beginning of each exercise, participants load a new project file that contains all the information correctly entered from the previous exercise. As a result, those with slower typing skills are not left behind. By completion, participants will have fully defined a project from beginning to end, and will have performed project updates and reporting. This course is for the 2019 version of Microsoft Project.
Course curriculum is taught using MSP 2019v, however, participants can join using any version of MSP from 2010v onward.
Authorized Training Partner
Procept is the service provider for all of our Project Management courses at Laurentian University.
LEARNING OBJECTIVES
Participants will gain practical skills to:
Effectively define a project, enter a Work Breakdown Structure, assign resources and costs to activities, enter project dependencies, set a project baseline, input actual project status, identify resource conflicts, and produce meaningful reports.
Use advanced features such as individual resource calendars, custom layout definitions, filters, and the use of custom data fields.
Understand both the positive and negative aspects of the software in order to fully understand the applicability of the software for their needs.
Discuss real-world issues such as managing multiple projects, sharing of resources, and the efficient use of the software within large and small organizations.
WHO SHOULD ATTEND
The Microsoft Project Essentials Course is appropriate for individuals who are:
Project managers, project administrators and team members.
Using Microsoft Project to plan and manage new projects, and those who require enough knowledge to understand its capabilities and to access previously defined project data.
Using (or perhaps exploring) the software without the benefit of having been formally trained.
Intending to pursue project scheduling credentials.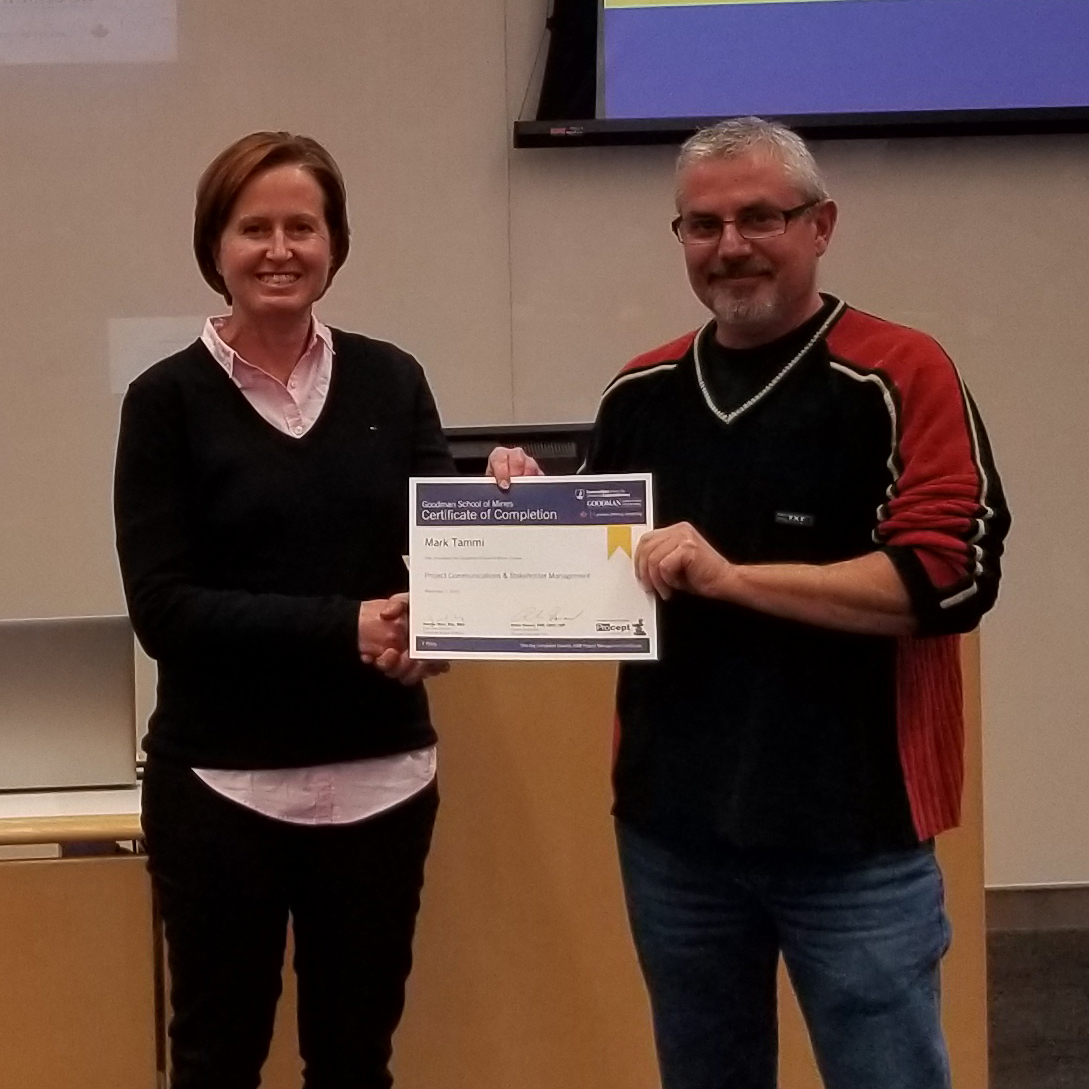 By completing 10 days of Project Management Training at Laurentian University you can earn a Project Management Certificate.
By completing the Laurentian University Project Management Certificate you will have acquired enough PDU's (Professional Development Units) to write your PMP Exam with the Project Management Institute and acquire your PMP accreditation. There are also 4 different certificate bundles available that you can choose from.
Alumni & PMI-NOC Discount
Alumni & PMI-NOC Discounts:
The Goodman School of Mines offers a 10% discount to all Laurentian Alumni and PMI-NOC members. This discount can only be applied to the regular rate of the course and NOT the early-bird rate.
 Please click the button below and fill out the form. We will contact you once we have verified the information to provide your discount code.
Staff, Faculty and Student Discounts
Staff, Faculty and Student Discounts:
The Goodman School of Mines offers a discount for all Laurentian University Staff, Faculty and Students. Please see the rates below with a link to the registration form.
Staff and Faculty Discounted Rate:
Microsoft Project Essentials – $895 +HST per person
Canada Ontario Job Grant
What is COJG Funding?
The Canada-Ontario Job Grant (COJG) is an Ontario government funding program that offers training grants to employers. Through the program, companies may receive non-repayable funding from the government to purchase third-party business training programs, including training for in-demand skillsets. Training is expected to improve the employability and value employees can provide; including new hires in these training sessions can also maximize your funding potential.
COJG funding can reduce the cost of training employees by up to 50-83%. This can cover up to $10,000 to $15,000 in training costs per trainee.
Windmill Microloans for Skilled Immigrants
Affordable Loans for Skilled Immigrants
Achieve career success in Canada with Windmill Microloans. Receive up to $15,000 to cover costs related to achieving career goals (education and training programs, exam fees, course supplies, and more). Low-income applicants are welcome and no Canadian credit history is required. To be eligible for a Windmill loan, you must be internationally trained with status as a Permanent Resident, Provincial Nominee, Canadian Citizen, Protected Person, or Convention Refugee.
Canada Tax Credit
What is the Canada Training Credit?

The budget proposes a new refundable tax credit called the Canada training credit available for eligible tuition and other fees paid for courses taken in 2020 and subsequent taxation years. The credit will be the lesser of the individual's Canada training credit limit for the taxation year, and half of the eligible tuition and fees paid to an eligible educational institution in respect of the year.
Participants may be eligible for this tax credit. Learn more at the link below.

Learn More
Cancellation Policy
Cancellation Policy:
1. Cancellation 4 weeks prior to a course is a full refund less a $100 penalty for processing or held on credit (no fee) for another course offering and can be used by anyone in the company/ organization for 1 year.
2. Cancellation within 4 weeks of the course – 50% penalty or held on credit (no fee) for another course offering and can be used by anyone in the company/ organization for 1 year.
3. Cancellation within 1 week of course – 100% penalty or held on credit (no fee) for another course offering and can be used by anyone in the company/ organization for 1 year.
Extenuating circumstances will be reviewed on a case by case basis.
Getting Started with Project

Identify parts of a Microsoft Project View
Work with the tabs and the ribbon
Access key Microsoft Project views
Creating a Task List
Explore File Properties in Microsoft Project
Build the Work Breakdown Structure
Enter durations
Enter dependencies
Use the Notepad to enter task details
Practice Your Skills: Setting up a new project file
Advanced Concept: Creating project calendars
Practice Your Skills: Enter the Work Breakdown Structure
Practice Your Skills: Enter durations
Setting Up Resources
People, Equipment, Material, and Cost Resources
Entering Resource Pay Rates
Adjusting Working Time for Individual Resources
Documenting Resources
Creating Resource Database
Create a project resource database: people, equipment, consumables (materials), financial expenditures (cost)
Adjust a resource's working time (availability)
Record additional resource information in a notepad
Practice Your Skills: Enter resource information
Advanced Concept: Custom resource calendars
Assigning Resources to Tasks
Assign "Work" resources
Calculate duration for "effort-driven" tasks
Schedule additional resource assignments
Assign "Material" and "Cost" resources
Calculate work for "duration-driven" tasks
Practice Your Skills: Assign resources
Advanced Concept: The Options dialogue box
Formatting and Sharing Your Plan
Customize a Gantt Chart view
Customize the Timeline view
Copy snapshots of the Timeline and Gantt Chart views to another application
Print reports
Create reports
Use the Print Preview function
Practice Your Skills: Enter the project logic
Practice Your Skills: Creating executive reports
Tracking Progress on Tasks
Save the baseline project schedule
Use various tables
Use the Update Project dialogue box
Update the schedule by reporting progress
Use the Update Tasks dialogue box to update actual work and durations for tasks
Advanced Concept: Using the baseline
Practice Your Skills: Tracking against the baseline
Fine-Tuning Task Details
Enter a lag time
Enter non-default dependencies
Apply constraints
Enter deadlines
Enter fixed costs
Advanced Concept: Using milestones, constraints, deadlines and slack (float)
Practice Your Skills: Enter constraints and deadlines
Fine-Tuning Resource Details
Set up resources to be available at different times
Set up different pay rates for resources
Set up pay rates that will change over time
Set up a material resource
Fine-Tuning Assignment Details
Delay the start of a resource assignment
Edit a resource's scheduled work on a task
Apply different pay rates for a resource working on different tasks
Enter variable consumption rates for material resources
Practice Your Skills: Entering resource variables
Fine-Tuning the Project Plan
Identify resource allocation
Identify overallocated resources
Edit a resource overallocation
View detailed and total project costs
Practice Your Skills: Resolving resource conflict
Organizing Project Details
Filter or highlight task and resource data
Create a custom table
Create a custom view
Practice Your Skills: Applying filters and customizing a view
Tracking Progress on Tasks and Assignments
Issue a new baseline
Record actual work for a task
Reschedule work on a task
Practice Your Skills: Revising the baseline
Viewing and Reporting Project Status
Identify task status
Work with the Gantt Chart Wizard
Add commands to the ribbon
Create a custom view
Advanced Concept: The Gantt Chart Wizard
Practice Your Skills: Printing your project file
It is recommended that participants take a project management fundamentals course (such as our 3-day Project Management Essentials) before taking this course.
PLEASE NOTE: You are required to purchase and bring the Microsoft Project 2019 Step by Step textbook in either hard copy or electronically to the first class. It is available for online purchase here and here.
It is strongly recommended that participants have two monitors, for the optimal educational experience.
You will receive a course binder and access to all of the Microsoft Project data files used in the course.
You will earn two days towards the Laurentian University Project Management Certificate. You will only need to complete the Project Management Essentials course and 8 more days of Project Management Training to obtain your certificate.
You will earn a certificate of completion and 14 PDU's.