Project Management Training
Project Management Essentials
This course is designed to give new project managers and project team members an overview of the various tools and techniques of project management and the key elements needed to deliver successful projects. This course covers the complete project lifecycle from initiating, through project planning and execution, to project close-out.
Receive Course Notifications!
Project Management Essentials
Project Management Essentials is a 6 half-day online, instructor-led, fundamental course and an accessible, hands-on journey through a project from initiation to closing, with a special emphasis on initiation and planning. Course participants work in project teams to practice PM tools while they experience the realistic challenges that are encountered on projects. Although it is possible to customize a case study for a specific industry or organization, this course offers 2 case studies so there is something for everyone.
Real-life stories from a variety of industries are used to illustrate key concepts and best practices and the instructor encourages course participants to share their experiences. This ensures the discussions are realistic and relevant.
Project Management Essentials is compliant with the Project Management Body of Knowledge and it introduces tools and terminology without overwhelming participants with jargon. The course focuses on developing practical skills that can be applied immediately to increase the level of success on projects.
The course is fun, fast-paced, interactive, and adapted as required based on the needs of each audience.
Authorized Training Partner
Procept is the service provider for all of our Project Management courses at Laurentian University.
LEARNING OBJECTIVES
Participants will gain practical skills to:
Learn and use modern PM Terminology and Tools
Prepare a complete and accurate project plan for a project
Practice PM Skills using templates and case studies
Value the benefits of formal PM Training
WHO SHOULD ATTEND
The Project Management Essentials Course is appropriate for individuals who are:
Looking for an introduction to Project Management Training
Working on a team and/or projects
Managing a team and/or projects
Interested in learning about the tools, techniques and terminology of
Project Management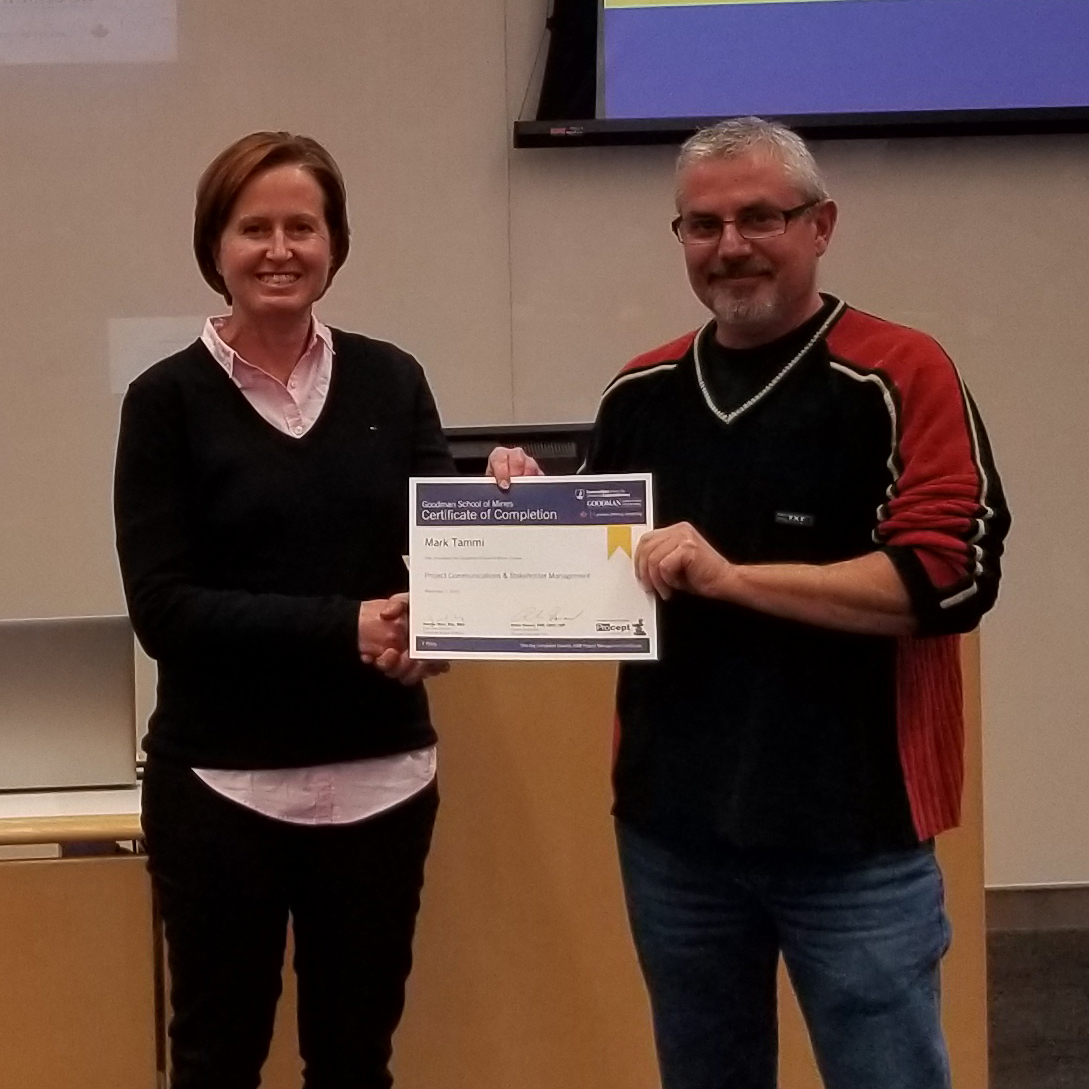 By completing 10 days of Project Management Training at Laurentian University you can earn a Project Management Certificate.
By completing the Laurentian University Project Management Certificate you will have acquired enough PDU's (Professional Development Units) to write your PMP Exam with the Project Management Institute and acquire your PMP accreditation. There are also 4 different certificate bundles available that you can choose from.
Fall 2022
September 26-28 & October 3-5, 2022
8:30 AM – 12:00 PM EDT
ONLINE
Fall 2022
November 23-25
8:30 AM – 4:30 PM EDT
IN PERSON
Alumni & PMI-NOC Discount
Alumni & PMI-NOC Discounts:
The Goodman School of Mines offers a 10% discount to all Laurentian Alumni and PMI-NOC members. This discount can only be applied to the regular rate of the course and NOT the early-bird rate.
Please click the button below and fill out the form. We will contact you once we have verified the information to provide your discount code.

Staff, Faculty and Student Discounts
Staff, Faculty and Student Discounts:
The Goodman School of Mines offers a discount for all Laurentian University Staff, Faculty and Students. Please see the rates below with a link to the registration form.
Staff and Faculty Discounted Rate:
Project Management Essentials – $1,295 +HST per person
Student Discounted Rate:

2 Spots Available! First come, first serve!

Project Management Essentials – $399 +HST
Student Registration
Canada Ontario Job Grant
What is COJG Funding?
The Canada-Ontario Job Grant (COJG) is an Ontario government funding program that offers training grants to employers. Through the program, companies may receive non-repayable funding from the government to purchase third-party business training programs, including training for in-demand skillsets. Training is expected to improve the employability and value employees can provide; including new hires in these training sessions can also maximize your funding potential.
COJG funding can reduce the cost of training employees by up to 50-83%. This can cover up to $10,000 to $15,000 in training costs per trainee.
Windmill Microloans for Skilled Immigrants
Affordable Loans for Skilled Immigrants
Achieve career success in Canada with Windmill Microloans. Receive up to $15,000 to cover costs related to achieving career goals (education and training programs, exam fees, course supplies, and more). Low-income applicants are welcome and no Canadian credit history is required. To be eligible for a Windmill loan, you must be internationally trained with status as a Permanent Resident, Provincial Nominee, Canadian Citizen, Protected Person, or Convention Refugee.
Canada Training Credit
What is the Canada Training Credit?

The budget proposes a new refundable tax credit called the Canada training credit available for eligible tuition and other fees paid for courses taken in 2020 and subsequent taxation years. The credit will be the lesser of the individual's Canada training credit limit for the taxation year, and half of the eligible tuition and fees paid to an eligible educational institution in respect of the year.
Participants may be eligible for this tax credit. Learn more at the link below.

Learn More
Cancellation Policy
Cancellation Policy:
1. Cancellation 4 weeks prior to a course is a full refund less a $100 penalty for processing or held on credit (no fee) for another course offering and can be used by anyone in the company/ organization for 1 year.
2. Cancellation within 4 weeks of the course – 50% penalty or held on credit (no fee) for another course offering and can be used by anyone in the company/ organization for 1 year.
3. Cancellation within 1 week of course – 100% penalty or held on credit (no fee) for another course offering and can be used by anyone in the company/ organization for 1 year.
Extenuating circumstances will be reviewed on a case by case basis.
Introduction and PM Context
Portfolios, programs, projects
Project success, project life cycles
Workshops: Project priorities, project success
Initiating the Project
Stakeholders and requirements
Project team, working in a matrix
Workshops: Project stakeholders, project charter
Planning the Project
Work breakdown structure
Project Change Control
Communications planning
Estimating
Project Risk Management
Critical path scheduling
Workshops: WBS, critical path scheduling, change control, project communications plan, risk management, project schedule
Project Execution
Roles and responsibilities
Scope management
Conflict management
Leadership and motivation
Schedule control
Cost Control
Workshops: roles and responsibilities, conflict management, schedule updates, reporting and control
Project Closure
Closing and lessons learned
Wrap-Up
Workshops: Lessons learned
PREREQUISITE
There is no prerequisite for this course. It functions as a stand-alone course.
COURSE MATERIALS
You will receive a course binder containing copies of presentation slides, case studies, exercises and suggested solutions.
You will have completed the mandatory course to earn a Goodman School of Mines Project Management Certificate. You will only need 7 days of additional training to obtain your certificate.
You will earn a certificate of completion and 21 PDU's.