Project Closeout Best Practices
November 15 – 16, 2021
As project managers, we tend to keep our eyes focused on the finish line. For us, it is all about on-time completion. Once the deliverables have been handed over to our project sponsor or client, we relax — the project is over. But is it really?
Project closeout always presents challenges: from getting final approvals, to performing administrative and contract closure, to capturing lessons learned, and more. At the rapid pace of business today, efficient project closure is a must and may even give you a competitive edge. This 2 half-day workshop introduces project managers to the best practices for getting final signoffs and closing out projects. Project managers will come away with a structured closeout framework and some templates that can be used to complete an orderly project closeout. 7 PDUs.
This course is an elective that can be used towards obtaining a Goodman School of Mines Project Management Certificate. Click here to learn more.
Authorized Training Partner
Procept is the service provider for all of our Project Management courses at Laurentian University.
*10% discount for Laurentian Alumni and PMI-NOC members on regular rate only. Please contact Denyse Leroy at DLeroy@laurentian.ca or 705-675-1151 x7222 to obtain your discount code.
**Cancellation policy can be seen below.
LEARNING OBJECTIVES:
To provide project managers with an advanced understanding of the activities required to close out a project properly, including financial, administrative, and legal closure. Participants also will learn a structured approach to performing an orderly closeout.
WHO SHOULD ATTEND?
This course is intended for beginner and intermediate project managers across all industries.
PREREQUISITE:
There is no prerequisite for this course. It functions as a stand-alone course.
MATERIALS:
You will receive a course binder containing copies of presentation slides, case studies, exercises, and suggested solutions.
Darya Duma, BESc, PEng, PMP, PSP, MCP
Darya Duma is a Senior Trainer and Consultant and member of Procept's Management Advisory Board. She has been designing and leading training courses in Project Management theory and application for 20 years and providing consulting services in project management for 15 years. She creates Project Management training for delivery by herself and others, designs PM frameworks and methodologies for clients, coaches and facilitates schedule development, Microsoft Project deployment, and scheduling template development, and facilitates the implementation of PM practices. Darya teaches at Queens University, and has designed courses for Bruce Power LP, Public Works and Government Services Canada, Ontario Power Generation, National Energy Board, Vale and University of Toronto. She is one of our Microsoft Project instructor/consultants. She is Program Director for our 10-day Mechanical Contracting Project Management course for the Mechanical Contractors Association of Canada. Darya is active in ISO/TC 258 on projects, programmes and portfolio management, specifically as the Canadian delegate to Working Group 2 on governance of projects, programmes and portfolios, and is the Vice-Chair of the ISO/TC 258 Canadian Mirror Committee.
Darya was a practicing Project Manager for over 10 years, first in "hard" projects managing industrial elevator installations with a mechanical contractor, and then in "soft" projects developing national and international standards with CSA International. A few of the projects that she has managed include providing elevators for Hibernia GBS, Sudbury Neutrino Observatory, Ontario Hydro, Alberta Power, and Vancouver Port. More recently, with the Canadian Standards Association, she managed the development of codes and standards for subsequent implementation in provincial regulations, as well as the development of ISO standards for the elevator industry. She has extensive international experience with clients in Europe, Asia, Africa and North America. Darya has been a member of PMI's Registered Education Provider Advisory Group, and is the Vice-Chair of the Canadian Advisory Council for ISO/TC258.
Darya holds a degree in Engineering Science from University of Western Ontario, as well as additional credentials in adult education design and facilitation. She is designated as a Professional Engineer, as a Project Management Professional by PMI, as a Planning and Scheduling Professional by the AACEI, and a Microsoft Certified Professional.
CANADA-ONTARIO JOB GRANT
The Canada-Ontario Job Grant can offset training costs to a maximum of $10,000 – $15,000 per employee.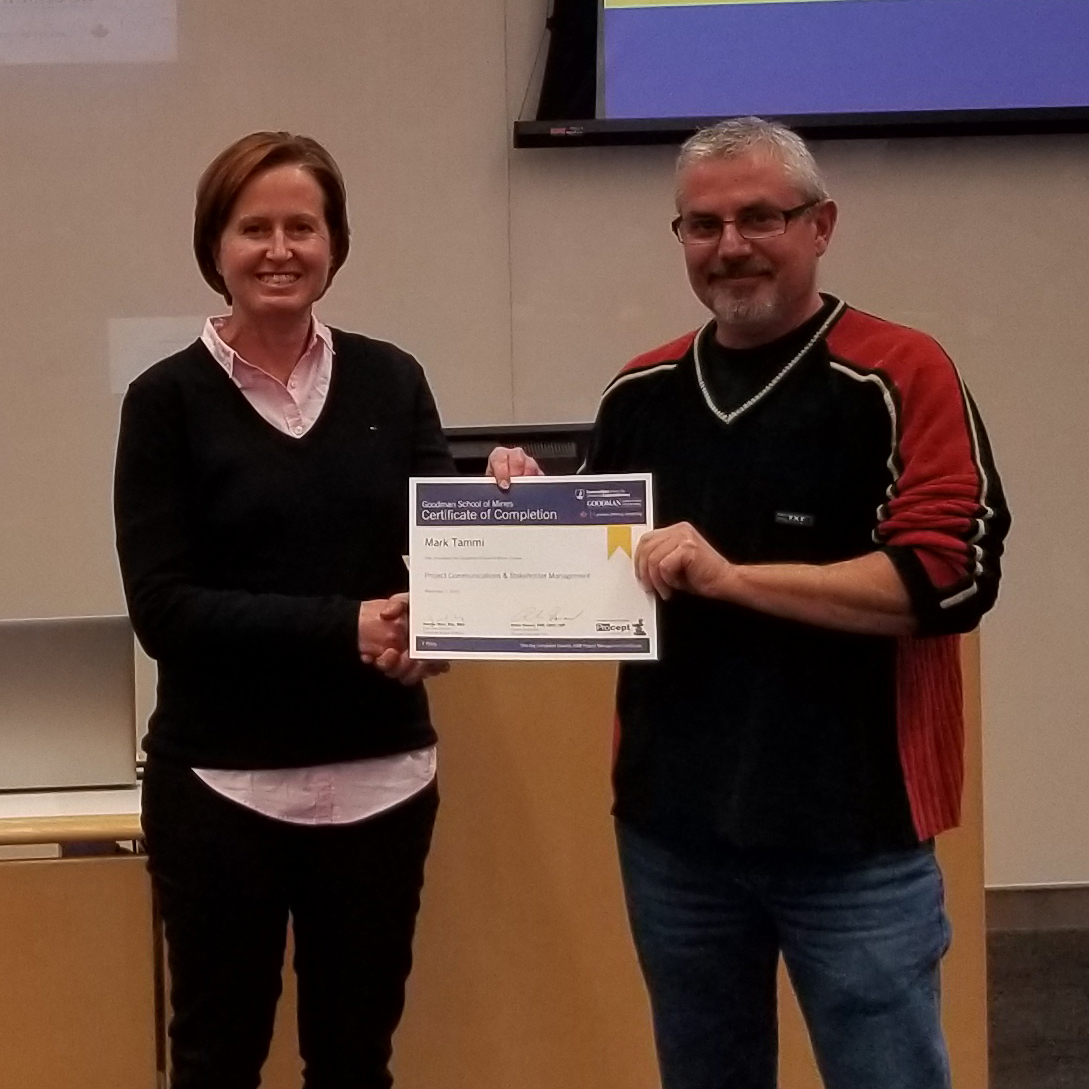 By completing 10 days of Project Management Training at Laurentian University you can earn a Project Management Certificate.
By completing the Laurentian University Project Management Certificate you will have acquired enough PDU's (Professional Development Units) to write your PMP Exam with the Project Management Institute and acquire your PMP accreditation. There are also 4 different certificate bundles available that you can choose from.

Contact Us
For questions, registration for workshops and inquiries, please contact our Administrative Assistant: Denyse Leroy 705.675.1151 ext. 7222. dleroy@laurentian.ca
Cancellation Policy
1. Cancellation 4 weeks prior to a course is a full refund less a $100 penalty for processing or held on credit (no fee) for another course offering and can be used by anyone in the company/ organization for 1 year.
2. Cancellation within 4 weeks of the course – 50% penalty or held on credit (no fee) for another course offering and can be used by anyone in the company/ organization for 1 year.
3. Cancellation within 1 week of course – 100% penalty or held on credit (no fee) for another course offering and can be used by anyone in the company/ organization for 1 year.
Extenuating circumstances will be reviewed on a case by case basis.