Project Communications & Stakeholder Management
November 8 – 9, 2021
This course is designed to provide participants with an understanding of the complexity of managing stakeholders and project communications. We will cover the processes, tools and techniques of Project Communications Management and Project Stakeholder Management as presented in the Project Management Institute's A Guide to the Project Management Body of Knowledge®
Participants will learn through application to a case study and hands-on exercises. 7 PDUs.
This course is an elective that can be used towards obtaining a Goodman School of Mines Project Management Certificate. Click here to learn more.
Authorized Training Partner
Procept is the service provider for all of our Project Management courses at Laurentian University.
Fall 2021
November
8 – 9, 2021
8:30 am – 12:00 pm
ONLINE
*10% discount for Laurentian Alumni and PMI-NOC members on regular rate only. Please contact Denyse Leroy at DLeroy@laurentian.ca or 705-675-1151 x7222 to obtain your discount code.
**Cancellation policy can be seen below.
LEARNING OBJECTIVES:
At the end of this course, participants will be able to:
Use the terminology and processes of stakeholder and communications management
Prepare a project or program communications management plan
Use the tools of stakeholder analysis
Learn tools and develop strategies for managing and monitoring stakeholder engagement
Learn tools and develop strategies for managing project communications
Articulate the benefits of a proactive approach to project communication and stakeholder management
WHO SHOULD ATTEND?
This course is ideal for those responsible for managing projects, programs and portfolios; project team leads; and managers whose resources are allocated to projects or who support project work.
PREREQUISITE:
There is no prerequisite for this course. It functions as a stand-alone course.
MATERIALS:
Participants receive a workbook with copies of the course slides and case study materials.
Janice Petley, BA, BEd, MBA, PMP, Cert.APM, CMP
Janice Petley has over 20 years of project management experience. Her typical assignments are definitely project management, but are anything but "typical". Her experience spans a wide range of projects: from classical theatre at the Stratford Festival and symphony concerts in the United States, to stadium and arena opera productions in cities such as Tokyo, Munich, and Brussels. Whether it was a large sporting event at the Rogers Centre or an opera with a cast of 1000 in a bull ring in Madrid, Janice has worked on high risk, innovative, challenging projects. As many of her events were broadcast live-to-air both nationally and internationally, she fully understands the necessity of flawless project execution.
Janice's ability to understand and appreciate both client and project requirements has enabled her to adapt to the needs of projects such as the SARS benefit concert in Toronto, World Youth Day (the Pope's visit), and managing site requirements while touring Europe with the Rolling Stones. By drawing upon this experience, Janice is able to provide scenarios in her training which are interesting and accessible to a wide variety of people and organizations. She has a special skill for demonstrating project management lessons learned by recounting engaging, memorable stories that bridge the gap between theory and practice.
Janice has extensive experience with projects whose core deliverables focused on marketing, corporate communications, employee rewards, team building, and training and education. She has managed projects for many high profile corporate clients including CIBC, Chrysler Canada, Telus, and BMW. The not-for-profit client list includes the Muscular Dystrophy Association, Canada Games, and Special Olympics International.
She holds a BA from the University of Western Ontario, a BEd from Queen's University, an MBA, and is designated as a Project Management Professional and a Certified Agile Project Manager.
Janice Petley is the Director of Atlantic Canada for Procept Associates and she regularly presents at Dalhousie University in Halifax and the University of New Brunswick as well as in-house to corporate customers. She keeps her PM skills current by working on social change projects that are close to her heart.
CANADA-ONTARIO JOB GRANT
The Canada-Ontario Job Grant can offset training costs to a maximum of $10,000 – $15,000 per employee.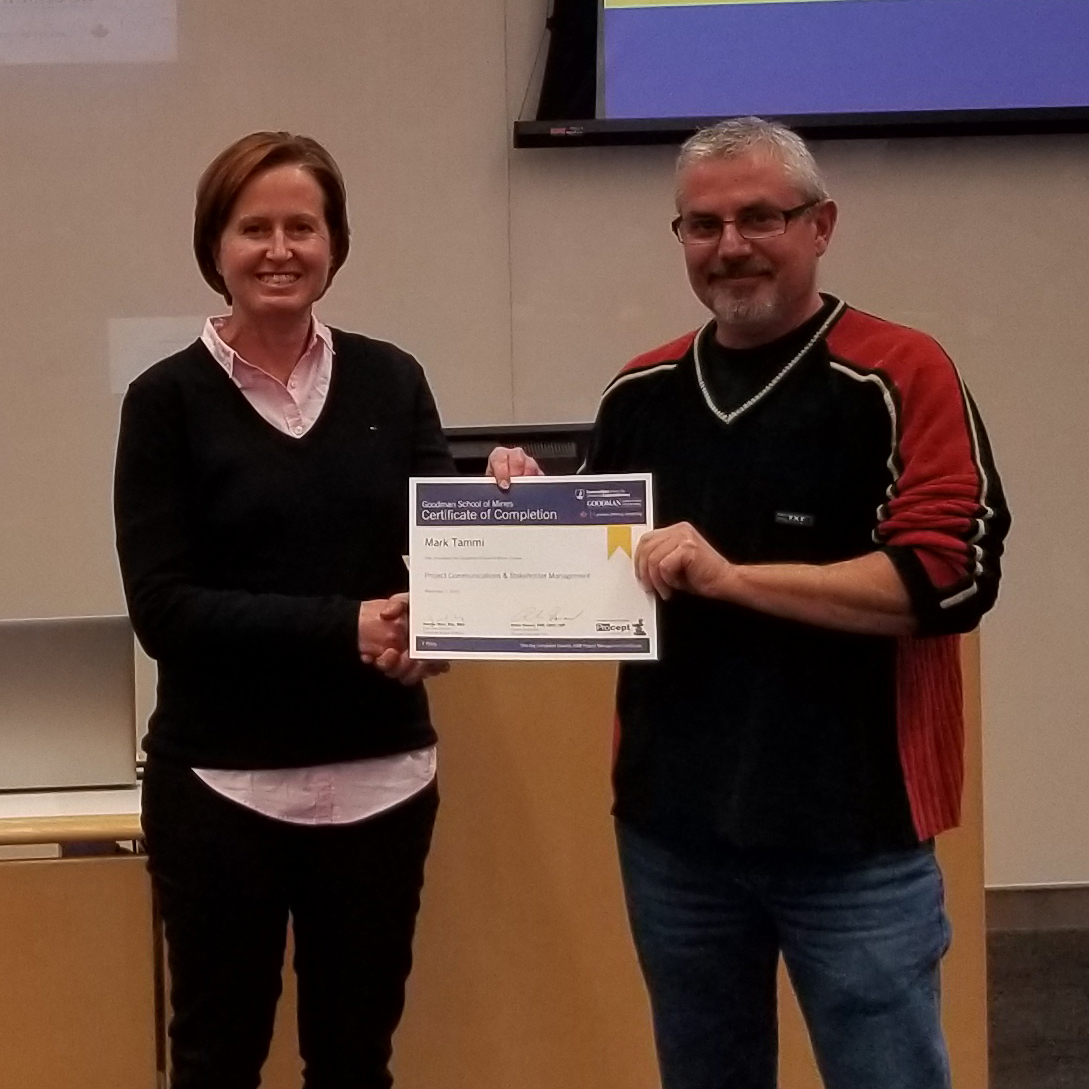 By completing 10 days of Project Management Training at Laurentian University you can earn a Project Management Certificate.
By completing the Laurentian University Project Management Certificate you will have acquired enough PDU's (Professional Development Units) to write your PMP Exam with the Project Management Institute and acquire your PMP accreditation. There are also 4 different certificate bundles available that you can choose from.

Contact Us
For questions, registration for workshops and inquiries, please contact our Administrative Assistant: Denyse Leroy 705.675.1151 ext. 7222. dleroy@laurentian.ca
Cancellation Policy
1. Cancellation 4 weeks prior to a course is a full refund less a $100 penalty for processing or held on credit (no fee) for another course offering and can be used by anyone in the company/ organization for 1 year.
2. Cancellation within 4 weeks of the course – 50% penalty or held on credit (no fee) for another course offering and can be used by anyone in the company/ organization for 1 year.
3. Cancellation within 1 week of course – 100% penalty or held on credit (no fee) for another course offering and can be used by anyone in the company/ organization for 1 year.
Extenuating circumstances will be reviewed on a case by case basis.