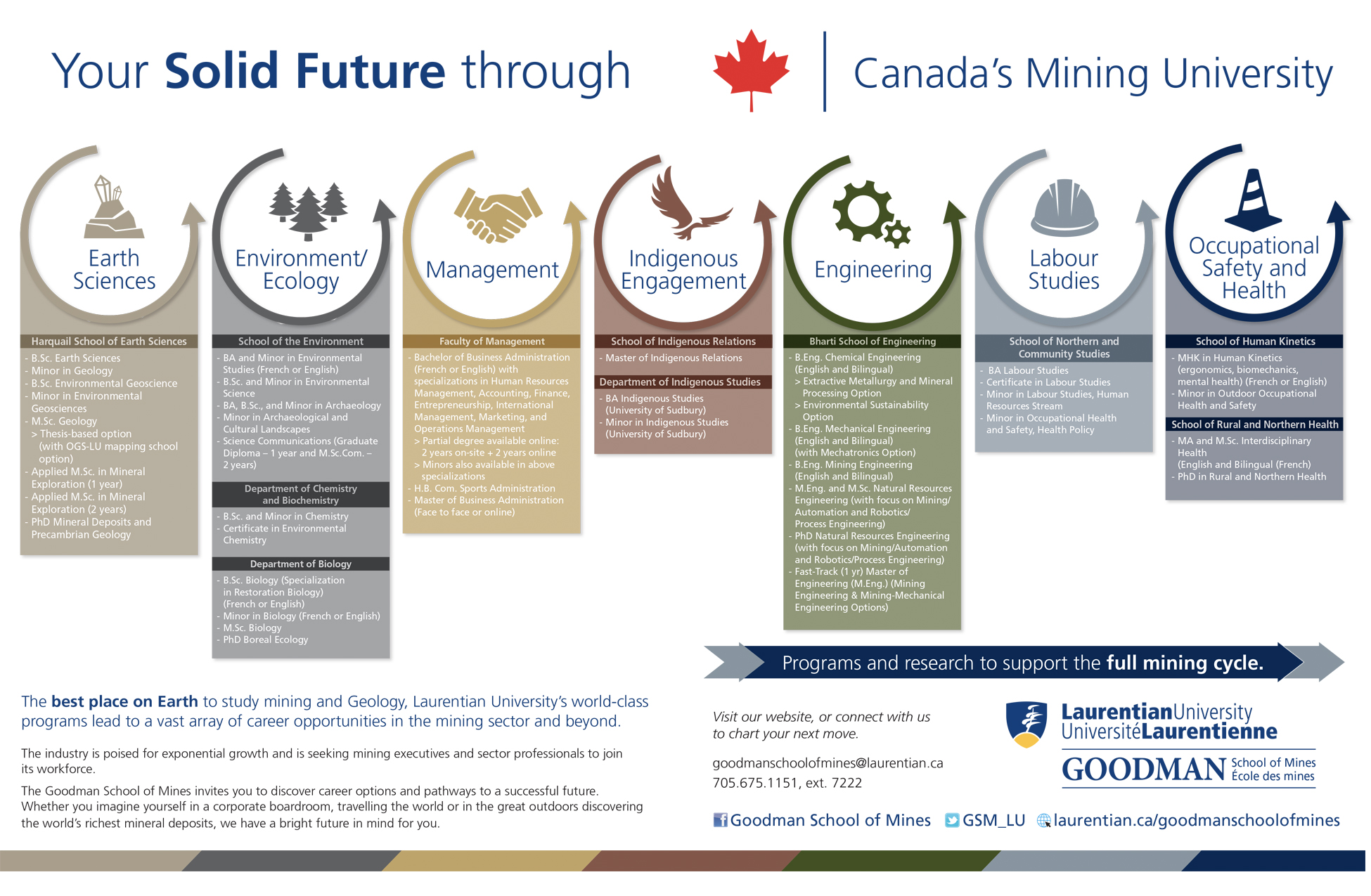 Human Resource Shortages
According to the Mining Industry Human Resources Council's 2010 National Employer Survey, up to 40% of Canada's mine and metals workers were eligible to retire by 2014, and between 60,000 and 130,000 new workers will be needed by 2020. A significant number of these workers require a university degree.
Changing Industry Standards
As the industry expands into new geographic regions, successful mine operators must show a strong commitment to safe, sustainable and culturally informed development.  Corporate social responsibility must be a demonstrated focus, not a buzzword.
Multi-Dimensional Talents
The industry is looking for potential employees with multi-disciplinary talents in areas as diverse as leadership, project management, business skills, cultural anthropology, restorative ecology, occupational health and safety, and a variety of languages.
WHY LAURENTIAN UNIVERSITY?
Laurentian is the only university located in a mining camp. Sudbury has one of the world's largest concentrations of mining experience – major/junior mining and exploration companies,  consulting companies, world-class research centres (MERC, CEMI, MIRARCO, CROSH, VALE Living with Lakes Centre ), government offices (MNDM, OGS, and analytical laboratories.) Supported by a vibrant cluster of 300+ mining supply and service companies operating in the area such as SAMSSA.
One of the key mandates of the Goodman School of Mines is to support LU students and give them opportunities to network, learn technical skills, make it easier to attend conferences and field trips, develop leadership skills, and have extra learning opportunities.
Although the Goodman School of Mines makes every effort to support all Laurentian students who have an interest in learning about mining relevant topics, the school primarily supports 7 key areas of programming offered by Laurentian University:
Engineering
Earth Sciences
Environment and Ecology
Indigenous Programs
Management
Northern Development and Health
Occupational Safety and Health
For a list of undergraduate programs in the above areas, click here.
For a list of graduate programs in the above areas, click here.
Upcoming Events:
Project Management Essentials – November 4-6, 2019
This course is designed to give new project managers and project team members an overview of the various tools and techniques of project management and the key elements needed to deliver successful projects. This course covers the complete project lifecycle from initiating, through project planning and execution, to project close-out. 21 PDUs.
Project Communications & Stakeholder Management – November 7, 2019
This course is designed to provide participants with an understanding of the complexity of managing stakeholders and project communications. We will cover the processes, tools and techniques of Project Communications Management and Project Stakeholder Management as presented in the Project Management Institute's A Guide to the Project Management Body of Knowledge ®.
Project Closeout Best Practices – November 8, 2019
Project closeout always presents challenges: from getting final approvals, to performing administrative and contract closure, to capturing lessons learned, and more. At the rapid pace of business today, efficient project closure is a must and may even give you a competitive edge. This 1-day workshop introduces project managers to the best practices for getting final signoffs and closing out projects. Project managers will come away with a structured closeout framework and some templates that can be used to complete an orderly project closeout. 7 PDUs.
Microsoft Project Essentials – November 26-27, 2019 – *NEW DATE*
This fundamental course provides you with the hands-on skills to plan and manage project activities. You will learn and practice Microsoft Project. Individual laptops with MSP 2019v will be provided. 14 PDUs.

The departments that host your degree deliver first-class education. The Goodman School of Mines offers additional opportunities to meet people who work or study in a mining-related field by providing opportunities for students to participate in lunches, workshops, courses, lectures, and other events, either at cost or free of cost.  Events are usually organized by the GSM or in collaboration with partners such as departments, research centers, companies, non-profit organizations, or student clubs.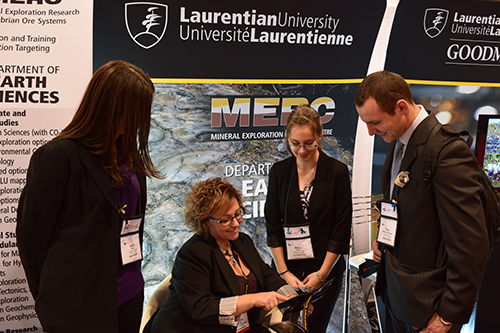 Laurentian University Minors
Goodman School of Mines has created a list of suggested minors, offered by departments at Laurentian University, which could be complementary to your degree and useful for entering into a career related to the mining industry. The Goodman School of Mines continuously works with departments to create new, relevant interdisciplinary minors.
To access this list of minors, please click here.
Workshops and Activities for Students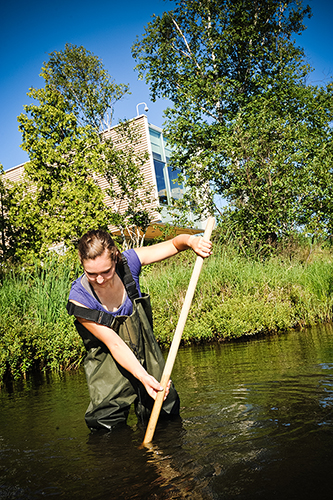 The Goodman School of Mines organizes (and works with other groups to organize) student workshops and activities that compliment their skills and better prepares them to enter the workforce.  The industry has indicated that they are looking for students with multi-dimensional talents. This is our way of expanding our student's knowledge and giving them the best-rounded education that they can receive. If you have any ideas on an activity or would like to propose workshop collaboration, please contact goodmanschoolofmines@laurentian.ca
List of previous student workshops/activities:
Scientific and Technical Writing Workshop
Snolab Tour
Company Information Sessions
Standard First Aid and CPR C
Understanding the Global Oil & Gas Industry – And What Lies Ahead
Wilderness First Aid
Wilderness Readiness
WIMNO – Successful Women in Mining
Dbaajmataading – Telling Stories
Leapfrog Geo Fundamentals
Presenting Yourself as a Professional – Part 1: Resumes, Cover Letters, Facebook and LinkedIn
Presenting Yourself as a Professional – Part 2: Interview Skills
Presenting Yourself as a Professional – Part 3: Mock Interviews
For upcoming workshops follow us on Facebook (Goodman School of Mines) or Twitter (@GSM_LU).
Workshops and Executive Programs for Industry and Students
The Goodman School of Mines creates Workshops and Executive Learning Programs (made up of a series of short courses) for industry professionals who are looking to upgrade their skills in their field or to learn a new part of the mining industry. These workshops/courses are created in response to research on the need in the mining and business industries to create workers with a broader knowledge base in mining and for executives, financial planners and non-scientists/engineers to gain a better understanding of the industry.   Laurentian students can participate in these courses and workshops at cost. This is a tremendous opportunity to learn additional skills and mining-related topics outside of your field of study at an extremely reduced price.
The FREE Goodman Lecture Series is a great way to learn about the mining industry in a short 1 hour presentation given by high profile executives and very successful individuals. It is also a great way to network and make contacts. Some of the lectures are followed by a reception that allows you to introduce yourself to the speaker, other professionals in the industry, faculty and other students.   For a list of past speakers and upcoming speakers:
Upcoming and Past Lectures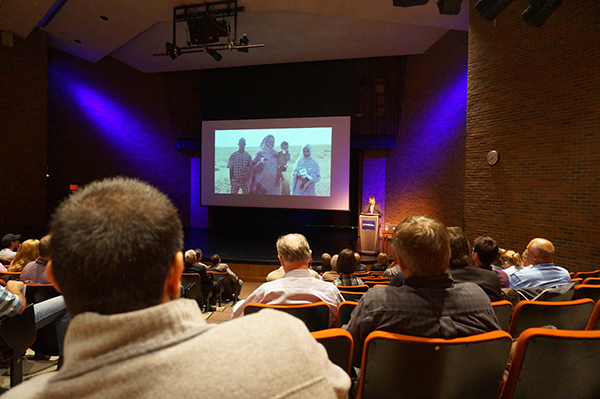 STUDENT FUNDING OPPORTUNITIES

Request for Goodman School of Mines Funding
The Goodman School of Mines is proud to provide students and student associations with funding for mining related initiatives and mining related activities. It is imperative that students keep and provide receipts for all of their expenses.
The Goodman School of Mines offers BSc, MSc, and PhD scholarships and awards to Laurentian students who are enrolled full-time the following programs:
Biology (Restoration Biology, Boreal Biology and Ecology)
Chemistry and Biochemistry
CROSH Student members (Health and Safety projects in a variety of programs that     contain a mining component) – To apply for CROSH membership

click here

.
Earth Sciences/Environmental Geosciences/Geology
Engineering (Mining, Mechanical, Chemical, Natural Resources Engineering)
Environmental Sciences/ Environmental Studies
Human Kinetics (Occupational Health and Safety)
Indigenous Relations
Indigenous Studies
Management (Business and Commerce)
Rural and Northern Health
For more information on the criteria and application process for these awards and scholarships, please visit our Financial Aid page.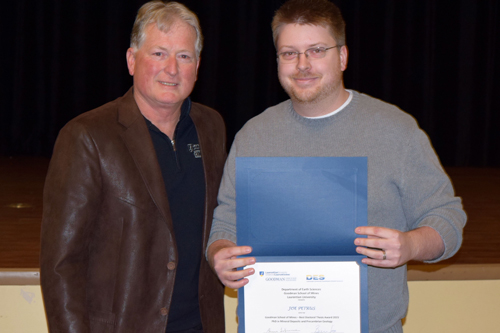 Classroom Equipment Upgrades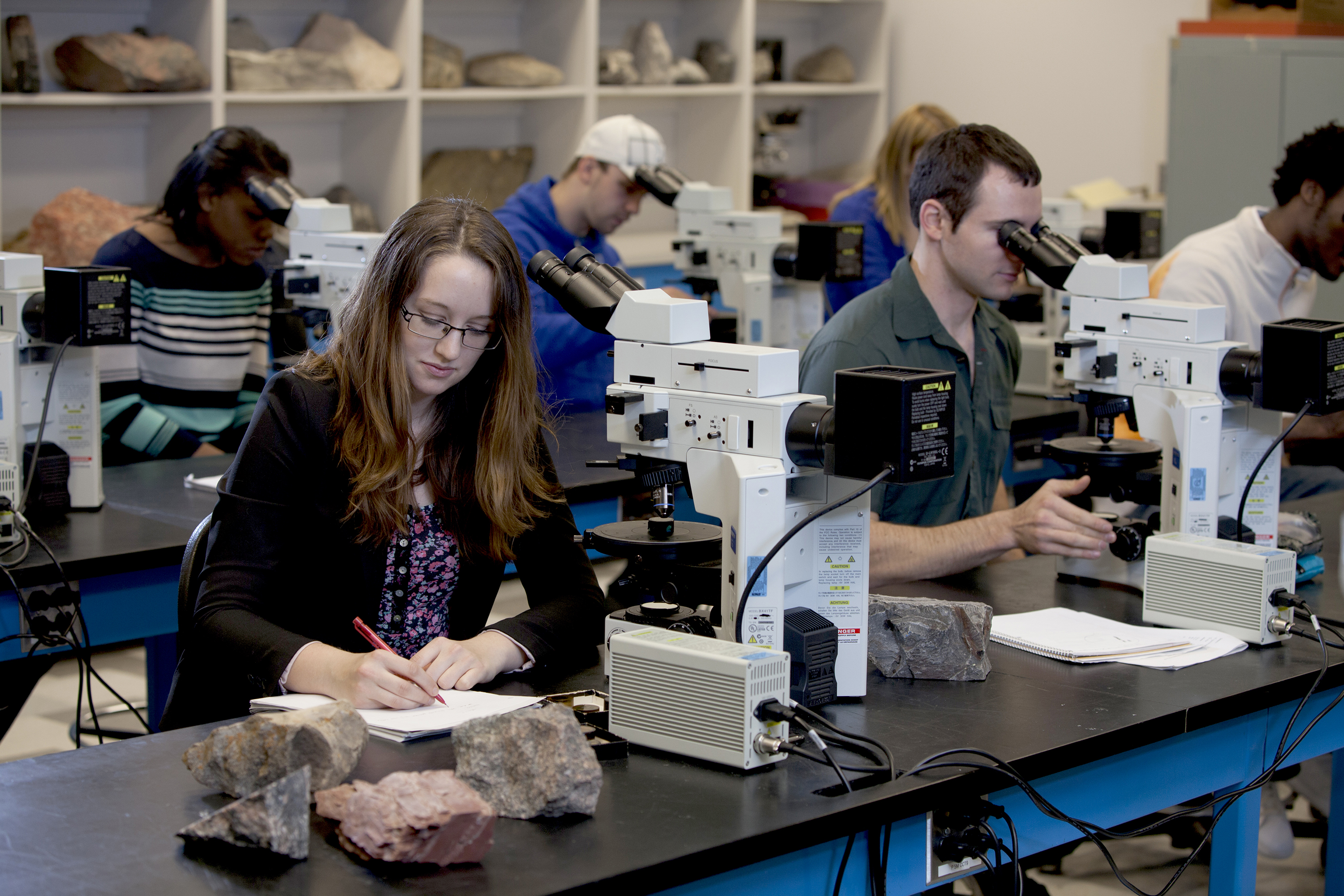 Geology students using the new microscopes.
We believe that in order to have the highest quality education, students must learn and practice on the most up-to-date equipment and software.  The Goodman School of Mines is proud to provide funding to help improve the quality and abundance of equipment used for learning purposes.  Some past purchases have included: microscopes, field equipment and computer equipment.
STUDENT ENGAGEMENT PROGRAM

Laurentian Co-Curricular Record
The Goodman School of Mines is a proud participant of the Center for Academic Excellence's Student Engagement Program.  The student engagement program recognizes the knowledge and skills acquired through experiences outside the classroom. These activities include:
Civic Engagement activities such as volunteerism, leadership and governance roles.
Professional Development activities such as competitions, educational experiences and recognition of awards.
All GSM-led activities are added to the co-curricular record (CCR) of the student engagement program. This includes student participation and attendance to: lectures (internal and external), workshops/courses, conferences, field trips, competitions, networking functions (BBQ's, lunches, awards…).   The CCR has many benefits, which include providing graduate and/or professional schools, as well as potential employers with a window into your involvement outside of the classroom. When coupled with your academic transcript, the CCR will provide a holistic view of your overall student experience at Laurentian that can help in setting you apart from competitors once you graduate. In addition, the reflective piece will help you organize your thoughts while providing you with answers to the questions that you might be asked in an interview.
For more information about the Student Engagement Program, visit the Centre for Academic Excellence  in person or on LUNET.